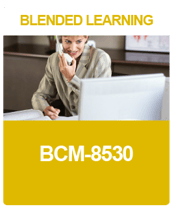 In view of the COVID-19 Outbreak, BCM Institute has responded to conducted its course online.
Want to be highly competent to decide on behalf of the clients on the compliance and effectiveness of the audited organisation's BCM program or BC management system.
Want to attend a course and audit an actual organisation BC Management System?
Seeking BC Certified Lead Auditor (BCCLA) professional certification on completion of course and assignments?
Achieve both without leaving your country (due to the current pandemic outbreak)
THIS COURSE COMPRISES OF:
One (1) BCM E-Learning Course

Successful completion of this e-Learning course and its in-built exam will lead you to the award of the Business Continuity Certified Planner or BCCP.

Six (6) 2-hour sessions of a Facilitated Online Workshop (with Assessments at the end of each session)
Self-reading and offline practicum includes:

Development of audit program/ checklist
Live audit of an actual organisation's ISO22301 BC management system
Issuance of audit report to "management"