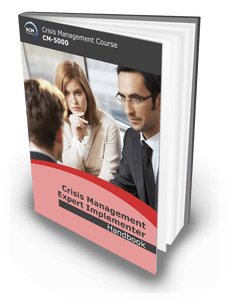 Comprehensive 4-Day Course for Practitioners Assigned or Are Responsible for Crisis Management
This expert level certification course would take the participants through the fundamentals of implementing a crisis management plan through to the managing of a crisis. The course is aligned to industry standards such as BS11200 CM Guidance and Good Practice, ISO 3100 Risk Management, ISO 22320 Security Resilience and ISO 22398 Societal Security.

Participants will be equipped with the knowledge to develop and implement a crisis management plan. It allows participants to develop a crisis management framework, policies and strategies as well as formulating the ideal Crisis Management Team. Both experience and novice participants would end the class having a better grasp of crisis command selection as well as the importance of a good crisis management leader. One would have the affirmation that his or her CM skillset and knowledge is complete, while the novice will acquire the most comprehensive set of CM knowledge embedded into one course.
A

ll course participants who completed and pass the qualifying examination attached to the course are awarded the internationally recognized Crisis Management Certified Planner certification. Other certifications are subject to proof of experience.