Communicating During A Crisis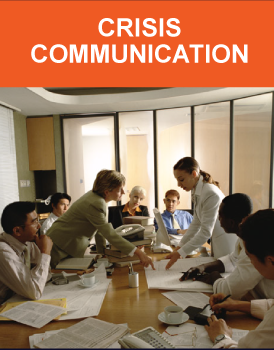 In the running of organizations today, crisis is becoming a norm and hence, the need to communicate when a crisis occurs, to the stakeholders becomes an integral part of any organization. This is because crises are inevitable in organizations, and the results of dealing with them ineffectively are dire. Organizations spend a large amount of resources building their reputation and they thus should be ready to deal with anything that threatens to damage that reputation.
The emphasis in crisis communication is often centered on the public relations (PR) with the media. In the training curriculum of BCM Institute, we are focusing on the team other than the PR or corporate communication team, that is supporting the collation, context and accuracy for such a communication. It is crucial for the institute to emphasized "Why Our Crisis Communication Course is NOT Similar to a Public Relations or Corporate Communication Course?"
As this page can be pretty long, do select to read the relevant topics from the "Table of Contents" found on this page.
Are We Speaking the Same Language?
One of the critical steps in the crisis communication (CC) journey is to "speak the same lingo." Hence, it is important that an organization establish its definition of a "crisis" when embarking on your crisis communication program. In our context, the alignment and correct understanding of each CC terminology are critical.
What is A Crisis?
The crisis is defined as a significant business disruption that stimulates extensive news media coverage. The resulting public scrutiny will affect the organization's normal operations and also could have a political, legal, financial and governmental impact on its business.
What is Crisis Communication?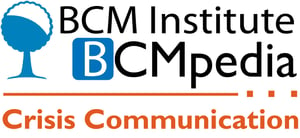 Crisis Communication is the gathering, coordination and timely dissemination of crisis-related information and opinion to interested parties to protect and defend an organization in facing a public challenge to its reputation.
Find out what is "
BCMPedia: Crisis Communication Wikipedia"?
If you are embarking on your crisis communication (CC) journey and is starting from a "blank page", what should be the steps that you should be undertaking.
Do you have an existing CC framework and policy? Is there a similar document that you can retrieved from Public Relations team? Corporate Communication team?

Do you know who the members of your CC team?

If you are the crisis management team, business continuity management team or IT disaster recovery team, how are you integrated to support the crisis communication effort during a crisis?
If you are the appointed person assigned to support the crisis communication initiative, you should start by gathering information from articles, case studies and analyses of recent crises affecting organizations both inside and outside of your industry. The key is to identify best-practice recommendations and any common pitfalls of the crisis communication effort conducted to support the communication processes during the management of the crisis.
Read some of the crisis management articles that is available of our LinkedIn Showcase (Crisis Communication)

What Type of Training Can I Attend?
Globally at your home location, there are related courses specific to crisis communication. If you find it useful, you may want to take a look at the BCM Institute's series of specialized CC courses. The quick question is do I have the necessary skillset and know-how to do this job? What do I "not know"? "How Do I Start My CC Learning Journey?"

The institute has training that leads to professional certification. You may want to review the following CC courses to determine the relevance to your roles and prior knowledge?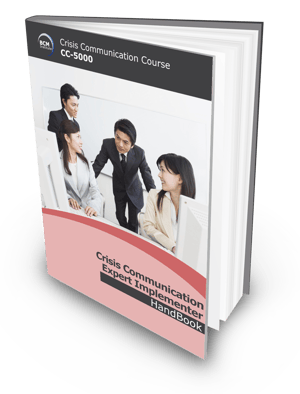 [Course Code: CC-5000] Do you need to fast track the learning process? You may want to Attend Advanced Level CC-5000 Course: Crisis Communication Expert Implementer.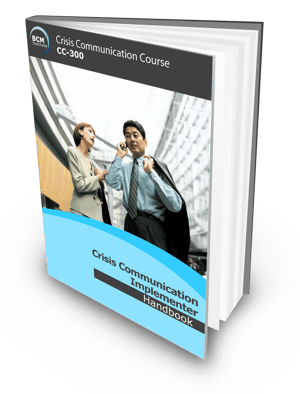 [Course Code: CC-300] If you are just starting to acquire CC skillset to complement your business continuity or crisis management experience, you are now ready to start "Embarking Your Crisis Communication Learning Journey by Attending the Intermediate Course"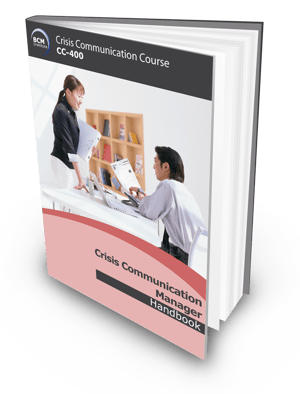 [Course Code: CC-400] Meanwhile, if you have decided to complete your CC-5000 course in stages, and have already completed our intermediate course (CC-300), you will be asking yourself how you can "Complete Your Final Installment of Advanced Level Crisis Communication (400 Level) Training Course."
What is the Competency Needed to Manage a CC Program?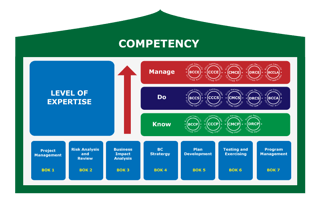 For those who are experienced and are seeking to progress in your career, it is time that you review and develop your learning road map that will accelerate both your knowledge, skillset and most importantly, your career.
Here are some of the related courses to be considered. Take stock by reviewing " What is My Competency Level? ". It is essential for you to know where you are "Know-Do-Manage" and where you aspire to reach or is required by the current CC role.
Course Content Links to BCM Institute Website With Pricing
For convenience to the reader, these is quick links to the respective crisis management courses found on the BCM Institute's website. The pricing is in Singapore dollars (SGD).
Note: For the latest course schedule, go to the respective [Course Description] and click [Course Schedule]
What CC Certification Can I Achieve?
Business Continuity Management Certification provides you with the necessary verification that you have the knowledge and also the necessary experience to implement or manage the crisis management program.
The three levels of certification are shown below. The types of crisis communication certification include CCCP, CCCS and CCCE.
To elaborate on the requirement to attain your certification, you can find more information at:
How Can I Be Qualified with A Crisis Communication (CC) Certification?"
Is There A Good Reference Guide?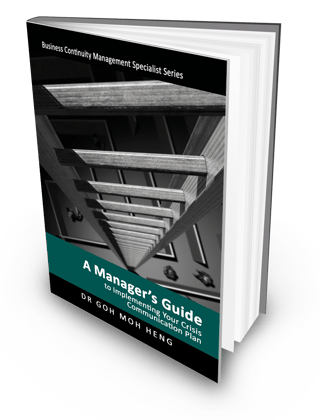 The institute has published a specialized BCM book called "A Manager's Guide to Implementing Your Crisis Communications Plan." You may want to get a copy of this book from the BCM Institute's store.
The book allows the reader to have an appreciation for and understanding of the key concepts and approaches of an effective communication plan during a crisis. It explains the crisis team structure and roles of the crisis communication team. It would also take the reader through issues management, risk management and relationship management and how it relates to crisis management (CM), business continuity management (BCM) and IT disaster recovery planning (DRP). This comprehensive guide includes a practical "fast-track" how-to-do-it template so that even those without previous experience in crisis communication planning can develop their own crisis communications plan. ISBN: 978-981-09-2671-7
Other Useful References
A list of the other references can be found in "What Are BCM References That Is Useful?"
How to Obtain Funding from the Singapore Government?

Do take note that Singaporeans and Singapore Permanent Residents (PR) can opt to attend BCM Institute's competency-based training. They can seek funding (of up to 90%) from the government when attending the crisis management courses only in Singapore. BCM Institute is an Authorized Training Centre (ATO) and the crisis management training program is developed in collaboration with SkillsFuture Singapore (SSG).
It may be useful for you to know the differences between BCM Institute's certification courses versus the competency-based government-funded training by reading "What is Certification and Competency-based Courses? "
What are the specific courses offered as part of competency-based crisis management:
You can view this "Comparison between BCM Intermediate Level Competency and Certification Courses" as an example.